This page is no longer maintained.
Visit the HAS website for current information.
Tuesday | February 3, 2009
Professor Emeritus E. Philip Krider Honored by Eric Betterton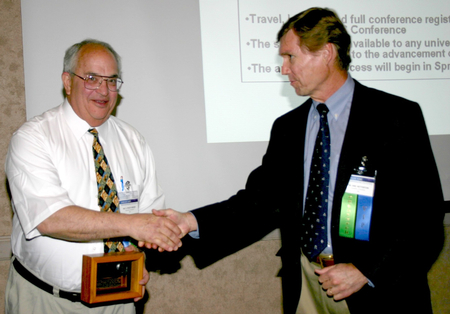 Dr. E. Philip Krider, a University of Arizona Scientist and Emeritus Professor in the Department of Atmospheric Sciences/IAP was instrumental in the development of the U.S. National Lightning Detection Network, the system that monitors the nearly 25 million cloud-to-ground lightning strikes that occur every year in America.
Dr. Krider is known worldwide for his work on lightning and thunderstorm electricity and writings on Benjamin Franklin's electrical experiments. He led the group that developed the first gated, wideband magnetic direction-finders that are now the basis of the U.S. National Lightning Detection Network. Dr. Krider is a 2009 Galileo Circle Fellow, Fellow of the American Geophysical Union, the American Meteorological Society and a former Co-Chief Editor and Editor of the Journal of the Atmospheric Sciences. He is also past President of the International Commission on Atmospheric Electricity.
Dr Krider received Special Tribute at the 20th International Lightning Detection Conference, Tucson, AZ in April, 2008, Organized by Vaisala.