This page is no longer maintained.
Visit the HAS website for current information.
Friday | September 19, 2008
ATMO's Model Forecasts Used By KUAT's Arizona Illustrated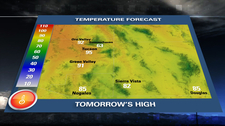 KUAT recently upgraded their daily news magazine, Arizona Illustrated, to High Definition video and also wanted to update their weather segment. They approached the Department of Atmospheric Sciences (ATMO) for some ideas.
"As we've been running a regional version of the Weather Research & Forecasting (WRF) model for the past few years, we thought that we could generate some automated high resolution forecast graphics for their daily weather segment," says Mike Leuthold, Support Systems Analyst for the Department. ATMO is automatically sending KUAT precipitation and low and high temperature forecasts for the overnight period and for the next day.
In addition, KUAT is using some of ATMO's cloud movies as a backdrop for their weather segment. In exchange, the Department will be credited each day at the end of the 25 second weather segment along with links on KUAT's web page pointing to ATMO's other forecast products. In the future, more air-time and additional products with features such as zooming and panning are expected.
Arizona Illustrated can be seen at 3:30pm on KUAT's HD channel and 6:30pm on their standard-definition channel. Contact Jason Criscio or Mike Leuthold for more information.
Please click here for a full-resolution sample of KUAT's new weather products.