This page is no longer maintained.
Visit the HAS website for current information.
Friday | October 19, 2007
From Passing Interest to Passion: A SOARS Success Story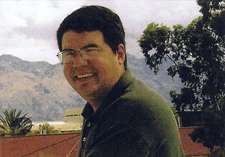 Christopher Castro is proof of the value of a summer internship. Growing up in Oklahoma, he liked to watch storms, but he didn't think of weather as a career path. He enrolled at Pennsylvania State University as a pre-law major in 1993, but a summer internship in the civil rights office of the U.S. Patent and Trademark office convinced Castro that law was not for him. "I though, why not do something that you've always had a passing interest in and that still has a connection to society?" He switched his major to meteorology, a decision he now compares to "jumping into a pool without knowing how deep it is. It was risky--very risky."
In 1996, a year into his new major, Castro had a very different kind of summer internship: UCAR's Significant Opportunities in Atmospheric Research and Science program. SOARS gives college students from underrepresented groups the experience of life as a scientist. Each student, known as a protégé, comes to NCAR or another participating lab for research projects over the course of three summers, with intensive mentorship guiding the protégé toward graduate school and a science career.
For Castro, the SOARS experience (along with his coursework) had the opposite effect of the law internship: "I got really passionate about climate and climate change." While in graduate school at Colorado State University, Castro joined the 2004 North American Monsoon Experiment as a rawinsonde (weather-balloon) operator and site translator at Los Mochis, Mexico. On completing his Ph.D. in 2005, he joined the University of Arizona because of his interest in the local climate and also as a place where his bilingual ability and cultural sensitivity would be useful.
Castro is the first SOARS alumnus to land a faculty post. "Don't be afraid to take risks," he advises young people, "because you'll grow more than if you always take the safe path. Your life may have more ups and downs, but it will be more rewarding in the end."