This page is no longer maintained.
Visit the HAS website for current information.
Studies in Atmospheric Sciences
The Department of Atmospheric Sciences offers programs leading to the Bachelor of Applied Science in Meteorology, Master of Science and Doctor of Philosophy degrees. Funded research is conducted through the Institute of Atmospheric Physics in such areas as
Atmospheric Chemistry & Aerosols
,
Climate & Global Change
,
Lightning & Atmospheric Electricity
,
Radiation & Remote Sensing
,
Tropical Meteorology and Tropical Cyclones
, and
Weather Analysis & Predictability
. We work closely with the departments of Hydrology and Water Resources, Planetary Sciences, Optical Sciences, Electrical Engineering, Chemical and Environmental Engineering, Geosciences and Applied Mathematics.
The Bachelor of Science - Meteorology degree is an approximately 2-y degree for people who already hold their AAS degree in meteorology.
The Master of Science degree is an approximately 2-y degree and includes both coursework and research.
The Hydrometeorology Program is a degree granting program jointly offered by the Department of Atmospheric Sciences and the Department of Hydrology and Water Resources.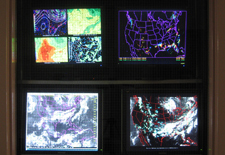 The Accelerated Master of Science degree is designed to allow a student to optain their B.S. in Physics and M.S. in Atmospheric Sciences in 5 years.
Building on the Master's program, the Ph.D. is primarily a research degree with the addition of further course work fulfilling a minor requirement.